Getting Started:
Note: If you've already registered and followed the link in a previous confirmation e-mail to "claim your account" in the virtual platform, you can skip to Step 2. If not, or if you aren't sure, please follow the instructions below starting with Step 1.
Step 1 – Claiming Your Account:
If you haven't already "claimed your account" in the virtual platform, click the link below to "claim your account". It is the second step after registering that must be completed in order to access recorded videos. Search for the email sent after you registered originally.
Step 2 – Watch recorded sessions:
Enter the Symposium platform through your personalized link sent to you following registration. From the main navigation menu, select Schedule > Agenda and choose from any session(s) that you want to watch a recorded video. Choose which day you want to access and click on it. The original air dates of May 4, May 5 and May 14, 2021 are listed side by side on the screen. You may view any of the sessions until May 2022.
**************************************************************
For those that aren't registered yet: Feel free to spread the word anyone may register after the event happened in May 2021!  Logistically the only way for anyone to watch the re-posted videos from May 4, 5, and 14 is to complete the following:
Step 1: Register (for free) for one or more days on the May 4, 5 and 14 
using this link
Step 2: Once you're registered you will be sent another email from the virtual platform asking you to "claim your account" — so be watching for that email. The personalized link allows you to enter the third party virtual platform using a password. If you don't complete Step 2 you won't be able to see any recorded sessions.
Step 3: Once you get into the virtual platform, go to Schedule > Agenda. Choose which day you want to access and click on it. The original three days were on May 4, May 5 and May 14, 2021 and are listed side by side on the screen. You may view any of the sessions until May 2022.
Step 4: Once you access the session you want to watch, if speakers used PPT slide decks, you can find them located under the "Files" tab next to the "Chat" tab.
**************************************************************
Frequently Asked Questions:
Q: I registered but my organization's email server has blocked me from accessing the platform link. What can I do?
A: You may need to use a personal e-mail address instead (Gmail, Hotmail, Yahoo, etc.) Please email Symposium Chair Maury Dobbie (maury.dobbie@ColoradoCollaboratory.org) for assistance in updating your e-mail address preferences. You do not need to register again.
Q: I didn't attend one or more sessions. Can I view recorded sessions later?
A: Yes! The recorded videos are already available using your personalized link.
Q: If I want to share the recorded videos with others, do they need to register?
A: Yes. Everyone must first register (free of charge) to watch recorded videos using 
using this link
. Follow the steps detailed above.
Q: How long do I have to watch recorded sessions from the May 4, 5 ,& 14, 2021 energy symposium?
A: You will have until May 2022 to watch any of the originally recorded sessions or download the speaker PPT slide decks.
Q: Do I need to download software or use a certain browser to view the recorded sessions?
A: No, you will not need to download any software. You will only need a computer and a stable internet connection to watch recorded sessions. Below are some recommended Best Practices:
— Browser: We strongly recommend using Google Chrome or Microsoft Edge browser
— Internet: Ensure you have a strong internet connection to avoid buffering or slow downs
— Close Unused Browser Tabs or Windows
— Use headphones or a separate speaker for the best audio quality and experience
****************************************************************
Symposium original dates:
May 4, 5, 14, 2021
Cost:  Free of charge but everyone must register first.
100% virtual
Who attended the May 4-5 and 14, 2021 symposium:  Energy industry (all sources of energy), climate advocates, environmental organizations, renewables, researchers, scientists, venture capitalists and philanthropic organizations, energy-related organizations, law firms, entrepreneurs, small/medium/large companies in energy and environmental sectors, NGOs, federal agencies, government, municipalities, elected officials, regulators, policy makers, utilities, academia, students, faculty and community.
Click here to view speakers, bios and pictures for Day 1 — Tuesday May 4, 2021
Click here to view speakers, bios and pictures for Day 2 — Wednesday May 5, 2021
Click here to view speakers, bios and pictures for Day 3 — Friday May 14, 2021
Please thank all our sponsors who allow us to host this three day event free of charge.  Click here to see the sponsors!
A sincere thank you to our Platinum Sponsor!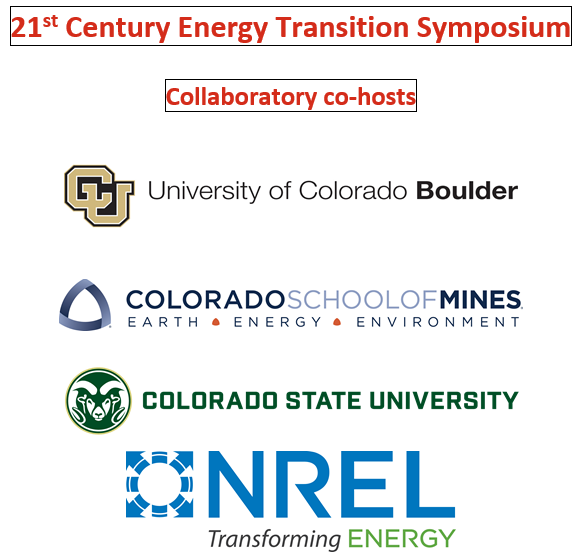 *****************************************************************************************************
In the meantime the Colorado Energy Research Collaboratory will be steadfast, resilient and focused during this unprecedented time.  Now more than ever we need to bring great minds and organizations together to solve complex systemic energy-related issues.  There is a sense of urgency to connect dots between energy topics and other challenges including climate change, extreme weather events, environmental changes, greenhouse gas emissions, increasing chance of pandemics, and other realities.  These all interconnect and impact each other.
2020-2021 energy-related webinars
The four Collaboratory entities (University of Colorado Boulder, Colorado School of Mines, Colorado State University, National Renewable Energy Lab) will be hosting multi-disciplinary energy-related webinars over the course of 2020-2021.  Our goal will be to continue serving our state, country and world by offering non-partisan, timely, thoughtful, educational, research/data based, and balanced webinars focused on specific topics.  Webinars will include discussion around energy transition of electric vehicles, utilities, traditional energy sources, renewable natural gas, policy, regulations, renewable energy, new fuels of the future, hydrogen, diversity/equity/inclusion in the clean energy workforce, and other focused topics.
Our first webinar was held mid-May 2020 followed by 24 other webinars.  These will all lead up to the May 4-5, 2021 energy transition symposium.  An excellent line-up of panelists and moderators will be posted as they come on line.
Cost:  free webinars, registration required
Stay tuned for calendar of events.